It's time for the first evaluation of the wiki unit.  Some things have gone beautifully and others not so much so.  First I'll start with a better description of how this wiki is being used to educate my students.
I've always thought that I wasn't doing a very good job of teaching students about the literary genres.  In the past students have enjoyed a TicTacToe game that encourages them to read from various genres.  Here's the one the 4th and 5th grade students are doing this year: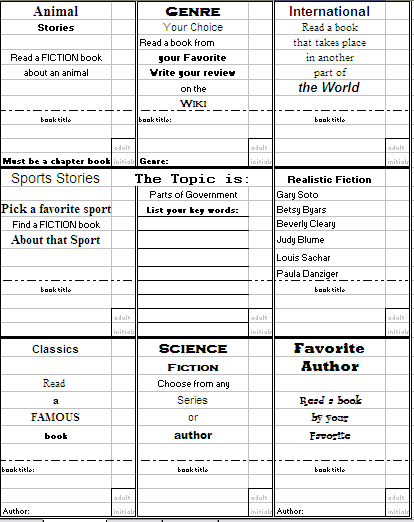 This year I added the wiki to the TicTacToe.  On the Harambee Library Wiki, students will post book reviews using various presentation methods.  Next week they will be learning what elements to include in the book review by filling out a template.  When posting their first review I want them to explore the various toolbar options such as changing the font style or color.  They will learn how to use Creative Commons images to find pictures of the book cover to save and upload.  We can use podcasts or animoto to present other book reviews.  Wordle can be a fun way for them to show the "parts of government" keywords for that middle square and I think it will help them remember these vocabulary words.
Yes, I'm excited about this project!  It started out well.  I used the videos and ideas that I got from Kim Cofino's post, Blogging is Elementary to prepare my students for posting online.  I had discussed privacy and website evaluation but never touched on cyberbullying until now.  These videos really got the fourth and fifth graders thinking and made a big impact on them.

After watching Cyberbullying – Bulletin Board, students came up with good questions that they should ask themselves before posting.  We compared our questions to the ones that Kim's students provided.
The second video really shocked them.  It might not work as well with older students who can be cynical about cyberbullying.

After watching this video students came up with rules for posting on the wiki that I think they will respect since they were the ones who thought them up.
This first part of the unit went very well.  Students were excited about working on the wiki and prepared to follow safe online posting rules.  This week students learned how to sign in to the wiki and make online changes for the first time.  Some classes handled this well but others had difficulties.  In my next post I'll think about what worked and what didn't.